When will TeenStreet Online happen?
TeenStreet Online will kick off at 6:50pm on Wednesday 8 July and finish at around 10pm on Saturday July 11.
There will be a 2 hour Interact session from 3pm-5pm on Thurs, Fri and Sat, and an evening session each day from 6:50pm to 10pm.
Checkout the "Schedule" tab above for more details.
How much will TeenSTreet Online cost?
For Teens, the rego fee for TeenStreet Online is $50. 
The registration fee for all leaders, including Coaches, Gap, M&Ms, and Service Team is $30.
Registration is now closed!
What do I get for my registration fee?
Your registration fee grants you access to view the livestreamed evening program, including Main Sessions with our awesome comms team, and the Throne Room. It also gives you access to a personalised online NET group where you can chat, learn and grow with Coaches and other Teens.
Also included in your registration is access to all the exclusive online Equip seminars which will feature inspiring speakers from around the world.
If TeenStreet is online - why is there a registration fee at all?
We would love to offer TeenStreet for free, but the reality is that going online has its own associated costs. We have to cover the costs of hosting all of the data that is being streamed, the professional video conferencing fees and a host of other costs related to having licences to stream music and lyrics.
Please be assured that we have tried to make the registration fee as low as we can to make it affordable for everyone.
Will I get a refund if my situation changes?
If you register and pay, but for some reason you're unable to participate in TeenStreet Online, you will receive a 50% refund if you let us know before the close of registration on June 14.
After June 14, there will be no refunds for registration fees.
How will I access Teenstreet online?
All registered Teens and Leaders will be given private access to the TeenStreet Online dashboard where you will be able to register for and join the Equip seminars, log into your online NET group meetings, and of course, watch the livestreamed Main Sessions.
Can siblings use the same device to participate?
As explained above, you will access TeenStreet through an online dashboard. Each participant will need their own device to participate in their individual NET groups and Equip seminars. The dashboard can be accessed by using a smart phone, tablet or computer. We suggest the larger the screen the better!
Will I be in an online NET group with my friends?
If you have invited friends from school or would like to be in a NET group with a friend, please indicate your preference during Rego and we will try our best to make that happen!
Please note that due to the complexity of organising NET groups, we cannot guarantee you will be in the same NET group as your friends.
How do I add another person to my family or group registration?
If you need to an extra applicants to your registration, just head back over to the Rego Form, and:
Enter the same email you used the first time
GO TO ATTENDEES
ADD ANOTHER ATTENDEE +
I didn't upload a recent photo for ID in my registration, what do i need to do?
Will I be guaranteed the leadership position I registered for?
We are so thankful for leaders who choose to invest and serve the Teens as part of our event. All leaders indicate the role of their choice in registering but as registrations close there is some change depending on the needs of our team. We are also guided by the church referees of each leader as to the most appropriate role for them. Roles will be confirmed soon after the close of registration.
What if I have questions about Blue Cards, Working with Children Checks, or Child Safe training?
TeenStreet takes Child Safety very seriously. It is quite complex and people's different situations will mean different requirements.
When you register as a Gap or a Leader, you will complete the Blue Card section by either uploading a current Blue Card or selecting the relevant tab matching your situation. If you don't have a current Blue Card, you will receive a separate email with some instructions, including a link with a prefilled form for you to fill out.
For all Blue Card and Child Safety queries please contact [email protected].
Please note, that if your situation means you need to submit a form, you will need to have all forms and supporting documents to Freyja by 14th June, 2020.
How do I know what size to get?
The ideal way to pick the right size merch is to take a shirt that fits you well right now and lay it down on a flat surface. Measure the width from underarm to underarm and the height in  centimetres.
Match those measurements up with the chart below and you've got your size! If your size measurements are just above the size listed in the chart, then we recommend increasing the size up to the next level.
*IMPORTANT* Please check your size carefully as we will be ordering stock based on pre-orders only. For this reason, we are unable to offer an exchange or refund if you order the wrong size.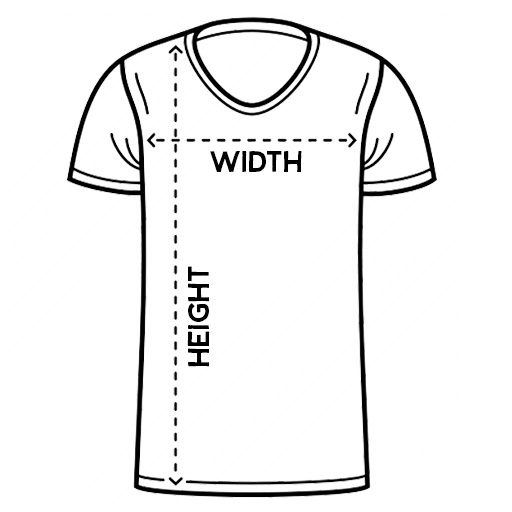 When will I receive the merch I bought?
We are so glad you are as excited about this year's merch as we are. If you ordered by 6th June your merch has already been mailed to you.
Yes, we don't want anyone to miss out. We are still accepting orders until Sunday 12th July and then we will place our final TeenStreet 2020 order which will be shipped to you 3 – 4 weeks later.
My question isn't answered on this page, how can i get an answer?